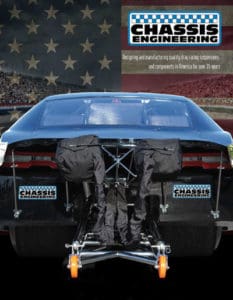 Chassis Engineering was started in 1980 to serve the needs of drag racers and hot rodders on the east coast who in the early days of the sport, typically had to go to suppliers on the West coast for up to date racing components for their race cars. By establishing an East coast supplier for these parts, the long wait and high shipping costs associated with purchasing in California could be avoided.
Our mission then and now is to manufacturer and supply high quality, state of the art CHASSIS, SUSPENSION and DRIVELINE components for Drag Racers, Hot Rodders and High Performance car enthusiasts. We build, race, and promote the sport of drag racing and hot rodding by manufacturing and distributing the highest quality chassis and suspension components available from anyone. In the past thirty five years, Chassis Engineering has been involved with all classes of Drag Racing from Pro Mod, Top Sportsman, E.T. Bracket racing and Import racing. Our staff knows what it takes to build a winning race car or street machine. The tech staff is ready to answer your questions and guide you to the finish line first. We also offer technical assistance at your location.
We stock a large variety of tubing and flat material in sizes common to the construction of race cars and other specialty vehicles not normally available from your average fabrication shop or steel supplier. Because race cars and high performance street machines are main business, you can be sure we've got the right size and material you need to complete any project.
With all of the production equipment and knowledge that Chassis Engineering processes, it's only a natural fit to do custom fabrication work in areas other than high performance automotive. This would include security cages, Steel Planter Boxes, Gym Equipment and more.
We are the only automotive fabrication shop in the South with two CNC Pines benders as well as our own in house Mazak laser machine. Our number 2 and number 4 Pines benders allow us to precisely bend both large and small rectangular or round tubing without wrinkling. Our Mazak Laser cuts perfect brackets every time and is ideal for short runs and prototyping. Custom orders are welcome.